Meet Hong Yi aka RED. RED is an artist. She likes to paint but not with a paintbrush. And she made a splash recently with coffee stains and socks. Yes, seriously.
In her latest project, she used 750 pair of socks to create a sock portrait of famous Chinese film director Zhang Yimou. She spent over three weeks on the project and used black, white and grey socks, stringing it using bamboo sticks and stitching patiently until the portrait emerged.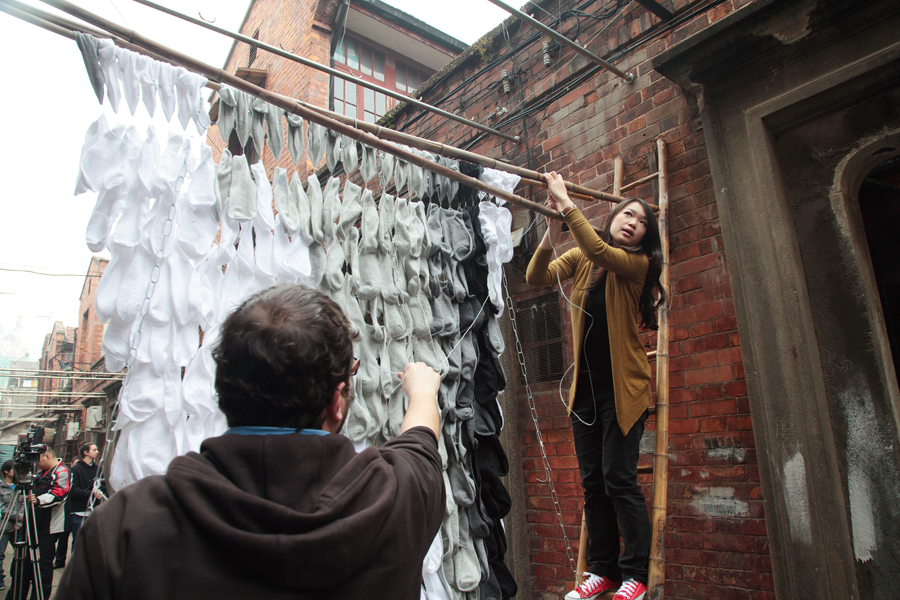 She was inspired by bamboo sticks poking out of windows in the alleyway with laundry hanging onto them. "To me, that was incredibly beautiful. And the amazing thing is seeing something so traditional in a modern, pumping city like Shanghai," says Yi.
Why Zhang Yimou, the famous Chinese film director behind Hero, House of Flying Daggers, Curse of the Golden Flower, and the Beijing Olympics? According to Yi:
"Many of his movies reflect the beauty of the Chinese culture, through the use of bamboos and traditional costumes. I thought Zhang Yimou's portrait done in a Shanghainese laneway, with bamboo and laundry would be perfect for this project."
She ended up using 750 pairs of socks (shirts were too big and expensive) and she found an interesting way to pin the socks together, creating a diamond-shaped piece of skin. "It was interesting to see the different angles of shadows casted on it throughout the day," she added.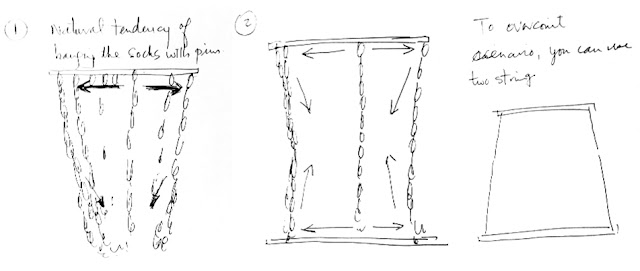 Yi is not new to using unusual objects as a tool for creating her art. In February, she created a portrait of Jay Chou (a Taiwanese musician, singer-songwriter, music and film producer, actor and director) a using nothing but Nescafe coffee stains on the bottom of a mug.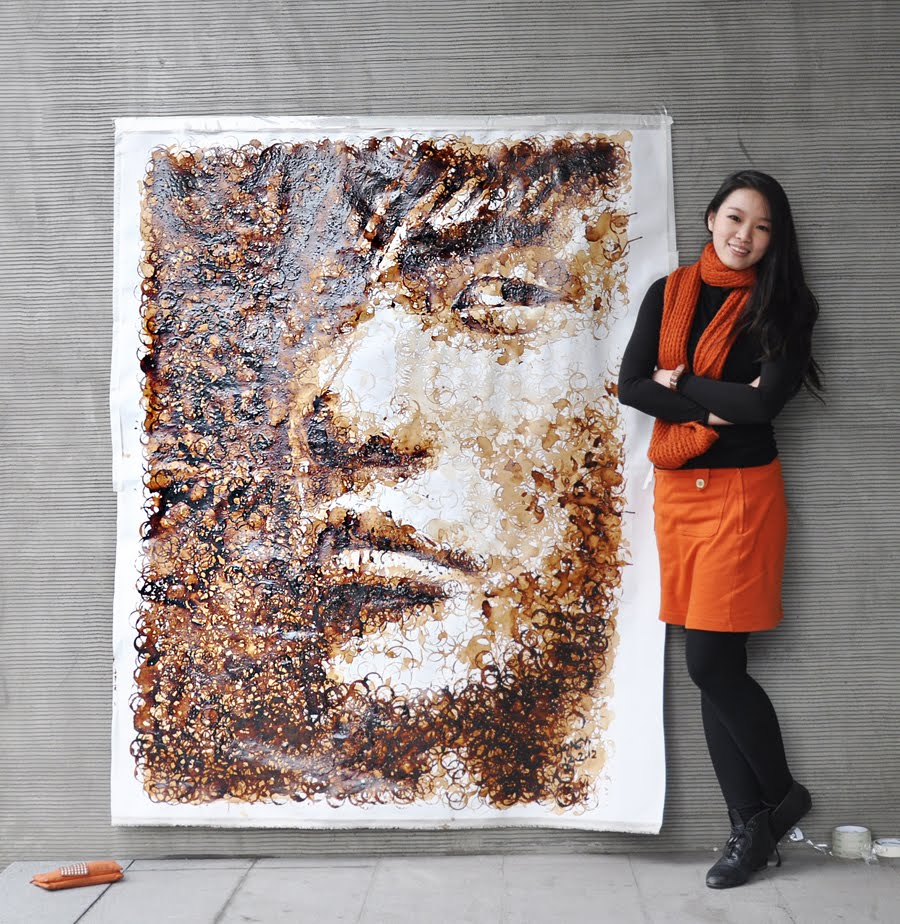 She was inspired by the first in Jay Chou's song, 'Secret' about lifting a coffee cup off the saucer and the last line, about autumn leaves and fragmented pieces. Hundreds of individual coffee stain rings, many of them broken and imperfect like fallen autumn leaves, formed a whole portrait:
"The singer tells a heartbreak tale of a lost romance with a girl from 1979 who time-traveled forward 20 years and met Jay in 1999, and they fell in love. She then went back to 1979 and sketched a portrait of him. My painting is meant to look like a sepia-toned old photograph to capture the essence of this story."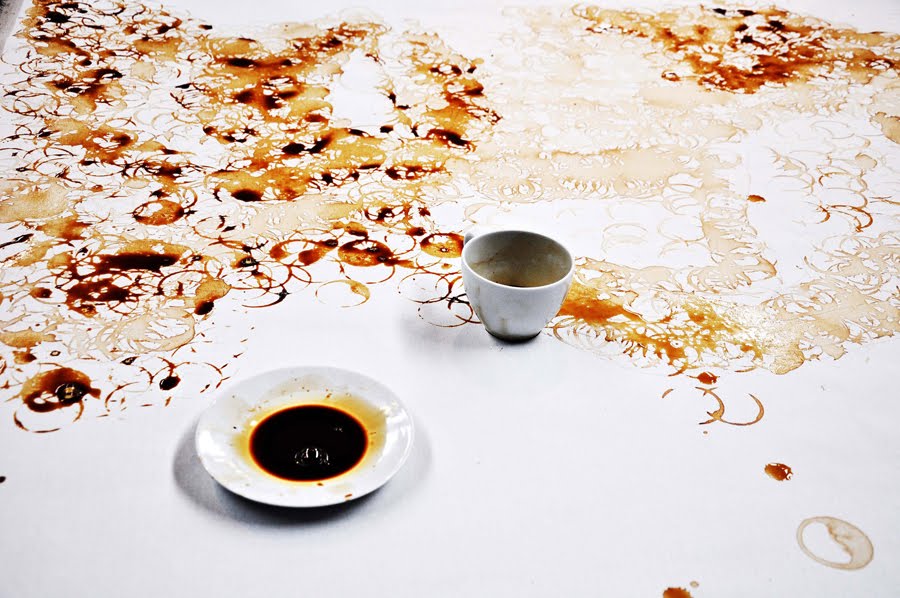 The project took about 12 hours to finish. Yi admits that coffee is "quite a challenging medium to use — too little water and the rings wouldn't form easily, too much water and the rings would blend into each other, resulting in just a deformed pool of coffee. I had to also wait for the lighter parts too dry up before stamping on the darker rings, or else the rings would not be visible."
As a little kid, she dreamt of becoming an artist. Modestly, she explains how she creates her art: "I like to grab whatever I can get hold of – rocks, ketchup, milk, salt, shirts — and turn them into art. It's more fun that way!"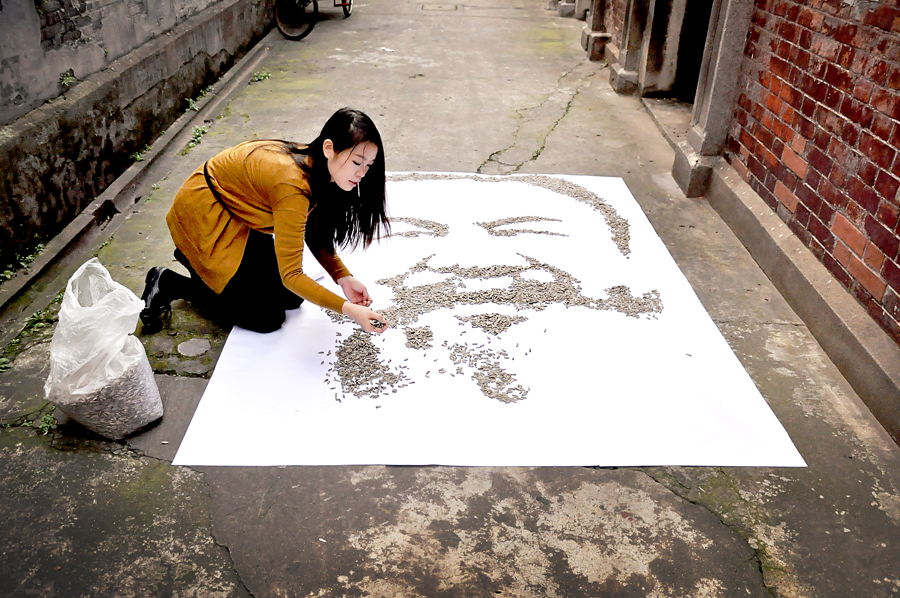 Check out her art, like the Yao Ming potrait and the homage to the controversial Ai Weiwei using 100,000/7kgs of sunflower seeds.
You go, Red! Visit her blog, Oh I see Red!